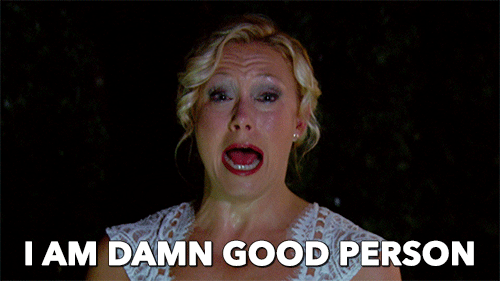 The most memorable thing about Karen was that she would always scream-
"BECAUSE I AM A NICE FUCKING PERSON." At the top of her lungs after she did anything a normal human would do. She would hold the door open for you, and shriek-
"I AM DOING THIS BECAUSE I AM A NICE FUCKING PERSON." As she let it hit you on the ass on your way in. She had mousy brown hair and wore sparkly pink eyeshadow to match her pink braces. Karen had a crush on this kid named Jerald, who was this mixed black kid with dreadlocks.
"HI JERALD!" She would scream at him from across the room, waving frantically, her chin doubling as she smiled. Jerald was nice at first, acknowledging her back, making polite small talk. But then Karen tried to take it to a whole nother level.
"Isn't the weather nice?" Jerald said as he clutched his geometry textbook to his chest.
"Do you like pussies bald or with a bush?" Karen inquired confidently, leaving Jerald dumbfounded. From this point forward Jerald ignored Karen, and Karen never got the hint.
"JERALD! COME OVER TO MY HOUSE TONIGHT! MY PARENTS ARE OUT OF TOWN AND I WANT YOU TO MAKE ME BLEED WITH YOUR DICK!" She screamed across the hallway leaving him and his group of friends awestruck. Jerald was a hot musician who had even the most beautiful girl at school, Jenifer wrapped around his finger.
"Hey Jennifer, what are you doing friday?" Jerald asked Jennifer one day in the locker room.
"Oh nothing… what are you doing?" She said nervously twirling her red hair.
"I was hoping to take you to see this movie called The Nun." He said cooly leaning against the kahi colored lockers.
"OF COURSE I WANNA GO!" Karen exclaimed as she threw herself on Jerald, relentlessly hugging him. Jerald pushed Karen off of him, grabbed Jennifer by the hand, and walked away. Leaving Karen with a smile ear to ear as her hand traveled down to her pants. She began to masterbate in the middle of school, falling to the floor as she orgasmed. Everyone was watching, one kid even videotaped the damn thing. The bell rang and Karen continued to lay there on the cold linoleum floor as bystanders trotted off to class. Mr. Philip's, her geometry teacher found her lying there.
"Karen… are you ok?" Karen smiled ear to ear and replied,
"I AM FAN-FUCKING-TASTIC MR. PHILIPS!" She jumped up off the ground. "How are you today Mr. Philips? I am asking because I am a NICE FUCKING PERSON!" With that Karen walked away, and hasn't been found since.
If you ever see a rotund female with pink braces, contact authorities immediately. Karen is wanted in 4 states on account of her public mastrabatory excapades. Do not allow her to be around small children, she will grope them until they begin to scream. If found do not give her any inanimate object, she can and will shove it up her vaginal canal. On one account, she ended up on a suicide prevention hotline with a can of Campbell's chicken noodle soup crammed inside of her.
"I WANT TO DIE, BUT I AM A NICE FUCKING PERSON AND I DO NOT DESERVE IT! Fuckin a I just squirted all over the fresh bananas. Margie is going to be so fucking pissed…" A parrot squawked in the background.
She is a danger to society. There was a reported sighting in Massachusetts of a monkey being beheaded with a plastic spork at a local zoo. Karen has been caught on film doing many obscure things over the past few months but police haven't been able to locate her. Please help us find Karen, the Miami police force is offering a reward of $15,000 if she is returned to them alive. Karen is much missed by her loving parents Martha and Katherine.
"I just miss my baby so much." Katherine said as she blew her nose into a Kleenex, her wife Martha comforting her.
"She's a good girl, she means well, really." Martha explained as she rubs Katherine's shoulder.
"She always loved playing her trumpet and eating cucumbers. They were her favorite food. Whenever I would forget to buy them at the grocery store she would cry and cry…" Kathrine sobbed into Martha's shoulder, Martha shook her head as a tear rolled down her pudgy cheek.
"We just miss our baby girl so much, any information would be greatly appreciated…" Martha collapsed into Katherine and a symphony of sobs permeated throughout the room.